THE WAGYU OF LAMB MEAT NOW IN CANADA
BREED DEVELOPMENT
In Fall, 2020 the Australian White Sheep Breed made its introduction to the Canadian marketplace when genetics imported from Australia, the birth place of the breed, arrived at Craigmore Farm in Tottenham, Ontario.
The Australian White Sheep is unique in the sheep world. Developed at Tattykeel Pty in Australia by Master Breeders Graham and Martin Gilmore, the Australian White is a Composite made up of Poll Dorset, White Dorper, Texel and the fat tailed breed Van Rooy originally from South Africa. After a decade of testing various percentages, the Australian White was stabilized as a Registered breed.
GENETIC QUALITY MAKES ALL THE DIFFERENCE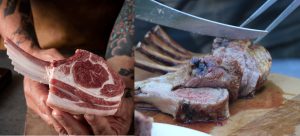 Originally Tattykeel's focus was on developing a breed that would excel and finish on grass, have high fleshing ability and provide a consistently uniform quality eating experience. They wanted to develop a hairless breed that would put its total energy into meat, not wool and they wanted a sheep that would breed year round. The end result was all of those breed characteristics and much much more! Almost immediately the quality and positive eating experience of their product, drew the attention of the urban restaurant marketplace in major cities in Australia!
NOT THE LATEST FOOD FAD!
Restaurant chefs the world over comment that lamb from Australian White Sheep is a "game changer"! The secret is "Marbling, Tenderness and Product Consistency", the same attributes found in 100% Wagyu beef! Those little white flecks of Intra Muscular fat and low fat melting point in Australian White lamb is the reason it commands a premium as a quality eating experience. This melted "Good" Fat infuses and tenderizes the meat as it cooks.
Simply put, we believe the average marbling content Tenderness and overall Eating Quality of Australian White lamb is in another stratosphere compared with anything else on the market.

Rolled Lamb Roast

Tomahawk Lamb Chops
THE SCIENCE BEHIND THE CLAIMS
Australian White Lamb genetics from Tattykeel Pty is uniquely superior in consistency and eating quality. Graham Gilmore of Tattykeel has conducted years of studies at various Australasian Animal Research Universities. They have subjected Australian White lamb meat to a barrage of testing. FOR EXAMPLE, THE PRIMARY OBJECTIVE OF A RECENT REVIEW WAS TO CRITICALLY APPRAISE THE PUBLISHED LITERATURE ON THE MEAT EATING QUALITY OF TATTYKEEL AUSTRALIAN WHITE LAMB. Specifically, the low fat melting point, high Omega 3 content, superior marbling, tenderness quality and overall high consumer likeability and product acceptability.
⦁ Results were conducted on pasture fed lamb with no supplemental feed related input to potentially skew the analysis. The scientific study concluded that "STUDIES ON INTRA MUSCULAR FAT, OMEGA 3 PROFILES WILL BE "FOUNDATIONAL" FOR THE GENETIC SELECTION OF HEALTHY LAMB EATING QUALITIES".

Lamb Ribs
In 2016, Professor Aduli E.O. Malaa-Aduli was the first to identify the scientific reasons for the excellent eating quality of Australian White lamb. (Professor Malaa-Aduli has spent decades in Japan and Australia researching Wagyu Beef eating qualities, including fat melting point, an indicator of high unsaturated fatty acid – the good, healthy fat). His comment not ours "THE AUSTRALIAN WHITE LAMB IS JUST AS GOOD – IF NOT BETTER THAN WAGYU".
SUMMARY AND BENEFITS
Craigmore Farm and its subsidiary The Kobe Lamb Group Inc. now have the first flock of Australian White Rams and Producing Ewes on Canadian soil.
Kobe Lamb Group Inc., will begin promoting Australian White Lamb to the Restaurant and Butcher Shop Trades on a limited basis in Fall 2021 and spring 2022.
Benefits to the Consumer and the Commercial Trade are:
⦁ Superior Quality eating experiences with high consumer acceptance.
⦁ Consistency of product with exceptional Tenderness and Marbling.
⦁ High in Omega 3 (good cholesterol) due to low melting point of the fat.
⦁ Lamb is the most Alkaline of all Red Meats which makes it suitable for Diabetic diets.
⦁ No "gamey" or greasy lamb taste. Tastes like no other lamb available.
⦁ Australian White Lamb is finished naturally for an Eating Experience like no other.
⦁ May/2020 Genetics of Omega 3 and Meat Eating Quality in Tattykeel Australian White Lamb S.B. Reason, J.R. Otto, R. Hearlimaan, A.M. Bodd et al.
Craigmore Farm / Kobe Lamb Group Inc. 5626 3rd Line, Tottenham, Ontario L0G 1W0 info@kobelambgroup.com